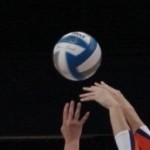 Serve, block, dig and spike.  Bob Holmes does it all.  He's a one man volleyball machine.
Holmes uses his volleyball skills in a one man exhibition to bring attention to his "Beat The Odds" program designed to inspire high school students.
The 56 year old inspirational speaker has beaten pro teams, teams of celebrities and hundreds of school teams as a way to bring his message to the court. You can read more about Bob Holmes here.