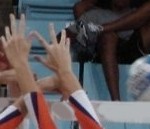 When John Kaskik's daughter was benched during a recent Lisle High School (Illinois) match, he did just a little more than express his displeasure.
Kasik followed the schools athletic director to his home where he confronted him. He then made harassing telephone calls all night threating the team coach and his family.
Finally Kasik returned to the school the next day and attempted to attack the athletic director.
John Kasik now faces felon harassment charges and battery and disorderly conduct charges.

Kasik faces up to three years in prison if convicted.
You can read the whole story by clicking here.