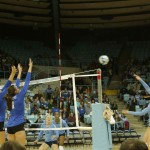 Some of the most prestigious women's college volleyball programs look to the Nike Volleyball Camp program to find new talent.
The Nike Day Volleyball Camp is for girls aged 10-18 and there are locations across the country.
One of the best things about the Nike program is the staff to camper ratio-1 to 10, and the staff features some of the best coaches in the country.
Click here to learn more. Camp sessions are filling up fast.