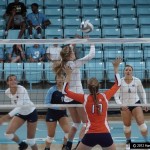 ESPN has announced their 2015 Womens NCAA volleyball schedule, and the UNC Tar Heels will be appearing on eight broadcasts.
Most of the matches will appear on the ESPN3 network.
The first match will be against Stanford, when the Tar Heels play their home opener.
You can see the whole schedule by clicking here.