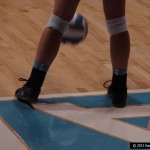 Today is the official opening of the 2015 NCAA Division 1 womens' volleyball season.
Hometown heroes, the UNC Tar Heels take to the court in their season opener against Southern Cal in Los Angeles.
Hoping to see them close their season with a win in the NCAA championships in Omaha, come December.