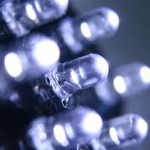 Access Fixtures, a leading manufacturer of sports lighting, has developed an LED lighting package intended for outdoor volleyball.
They have determined that the ideal lighting level across a volleyball court is 27.67 foot candles, and their two pole/four light system is designed to provide this light level over the entire court.
Access claims an energy savings of 67% and a 100,000 hour lamp life. Unlike current technology, the LED system is "instant on", requiring no warm up time.