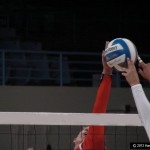 Womens' NCAA volleyball competition starts this week and ESPN has announced that they will provide more televised coverage than ever before.
Their coverage this fall will be expanded to 30 games across the ESPN2 and ESPNU networks.  Competition will feature nine division one conferences.
Streaming networks will also be expanding their offerings.