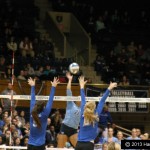 Across the college sports spectrum, women's volleyball is usually an "official" scholarship sport and men's volleyball is relegated to the "club" status.
Most thinking points to men's football as the driver of this status quo, since there is a need to balance the number of scholarships provided to men in the football program with multiple "women only" scholarship sports.
This may make some sense, but it certainly doesn't translate to high school sports.
Vicky Page, a high school volleyball coach in Florida, has started a petition in an attempt to get the sports sanction body in Florida (FHSAA) to sanction boys volleyball as a varsity sport.
In Florida, boys volleyball would be a spring sport, as opposed to the girls, who play in the fall.