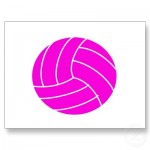 Montana school volleyball teams lead the nation in a breast cancer awareness promotion called "Pack The Place In Pink".
October is Breast Cancer Awareness Month and Montana volleyball players are using special games both to raise awareness and raise funds that go directly to cancer patients.
This is the sixth year that teams have taken to the volleyball court for the cause and 2012 saw seven different schools participate.
In addition to contributing directly to individuals, some of the funds raised go to the Susan G. Komen Foundation.