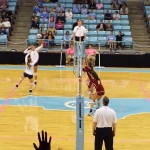 Yes, we're a week late with this post, but it is still news around here.
Once a year UNC's volleyball team sponsors a Breast Cancer Awareness match. This year's happened last weekend.
In the 2014 version of this event, the Tar Heel women hosted Boston College in an ACC matchup.
Featuring both bright pink warm up jerseys and special pink floor markings (compliments of GoodBuyGuys.com), Carmichael Arena stood out in a special way for this match.
Carolina swept Boston College 3-0.