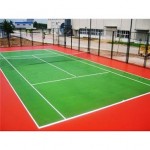 The Chinese have joined in on the challenge of perfecting the synthetic outdoor volleyball court in a big way.
Shangran, a giant Chinese industrial conglomerate has announced that they are able to provide the raw materials for outdoor playing courts in bulk, up to 2000 metric tons per month.
Their material can be used to create courts in red and green and they can also do custom colors.
They will soon be able to provide volley floor tape as well.