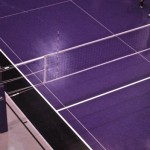 A lot of casual fans of women's college sports are not aware that the net height for women's volleyball is seven inches shorter than the height used for men's play.  This disparity in thenet regulations is given much of the credit for the level of action and competitiveness in the women's version of the game.
Now the coach of the perpetual national champion University of Connecticut women's team, Geno Auriemma, is proposing a lowering of the rim height in the women's game to bring the same sort of offensive excitement to that game.  He cites statics showing that the average female player is six inches shorter than those who play the men's game in division one, yet they must use the same rim height.
We might agree with him if  Baylor was required to make star center, 6'8″ Brittney Griner, play on her knees!