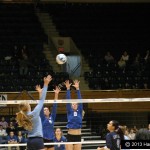 The recent focus on head injuries and specifically concussions that began with football is slowly, but surely spreading to other sports.
While the likelihood of a concussion in a non-contact sport like volleyball is much lower than with a contact sport, it is a real danger and needs to be understood.
The combination of high jumping and a hard floor means that coaches, trainers and players need to understand how to deal with a possible concussion.
USA Volleyball, in its online health and safety area, discusses concussions in detail and provides some valuable information.