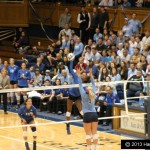 NCAA Women's Volleyball is a great way to get a college scholarship. A varsity volleyball team has numerous scholarship opportunities and any high school player who thinks that they might make it onto a college court needs to begin planning early in their secondary school career.
Athleticscholarships.net is a very valuable resource for any student who is seeking a college scholarship to play volleyball.
It includes guidelines for players and parents and provides lots of info about how to contact college coaches and how to make sure that your grades and overall resume are up to the task.
Click here for more information.