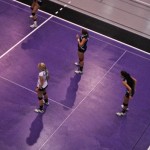 Following the the steps of football and other contact sports, USA Volleyball has joined in the national sports initiative to identify and prevent concussions.
Awareness that concern for head injuries needs to extend to the volleyball court, USAVB is working with the Center For Disease Control to develop and distribute tools to coaches, parents and athletes for preventing and recognizing concussions.
Click here to read more about this important initiative.